19 Mar

UNCHARTED WATERS: Keeping your Cellar Door afloat in the Covid-19 storm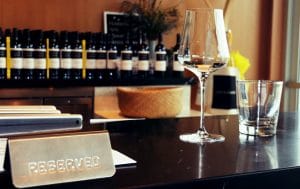 DATELINE:  Friday, March 20, 2020
What do you need to know if your winery business is grappling for stability on a rapidly-changing Covid-19 landscape?  As we work with our clients to navigate the maze, we're noticing some common misconceptions and concerning misinformation being bandied about in the online space.
Douglas Adams was never so right as right now, and we can't stress this strongly enough: DON'T PANIC!
At the time of writing, no official restrictions have been placed upon Cellar Door businesses in Australia.  Understandably, events are definitely in the spotlight, with the PM announcing a restriction on indoor events, limiting them to less than 100 guests.
If the USA is anything to go by, it may only be a matter of time before our Cellar Doors are forced to shut.  In California, Governor Newson called for tasting rooms, bars, nightclubs and wine bars to close temporarily, and Napa Valley Vintners voted to close visitor-facing operations for all wineries in the region. The state of Minnesota quickly followed suit. Sacramento County reports that their case numbers are growing as a result of "community spread" while just three days ago the risk of virus infection was rated as  "minimal to moderate."
Things are changing, FAST.
Here in Australia, many wineries are choosing (for a number of reasons) to self-impose complete closure for a fortnight or more, while others are opting to maintain business as (almost) usual for as long as possible.
We are not mandating either approach but, for those choosing to play the long game, here's a brief snapshot of what's happening in wineries around the country:
In Victoria, a Seymour winery closed for a fortnight after a visitor was confirmed as a coronavirus case following his return from overseas.
Online reports indicate that five cases have been linked to the Hunter Valley, one to a Pokolbin winery and possibly linked to interaction with an international tour group.
Casella Family wines have moved to temporarily close their operations in the Barossa (Peter Lehmann Wines), Coonawarra (Brand's Laira) Rutherglen (Morris of Rutherglen) and Glenrowan (Baileys) until April 26.
Yalumba and at least two other Barossa wineries have decided to close temporarily.
Tamar Ridge in Tasmania has removed spittoons and cancelled all bookings for group tastings.
Printhie Wines in Orange is offering free home delivery to their local customers for orders of bottles of 6 or more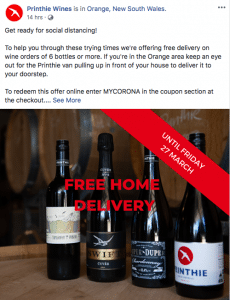 Mandoon Estate has facilitated 1.5 meter spacing between tables, increased sanitisation and disinfection for all surfaces and areas of frequent contact, and is offering a flexible cancellation policy.
Edenmae Estate remains open for wine service by the bottle onsite (no tastings or bar snacks) with reduced trading hours, tap-and-go payments instead of cash, social distancing protocols and enhanced hygiene standards.
Virtual Tasting Sessions are on the rise, promoted on socials and viewed via website, Zoom (or similar) and YouTube.
Here's a terrific post from The Lane Vineyard in the Adelaide Hills: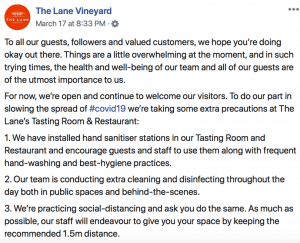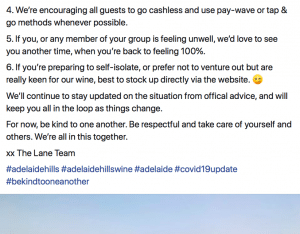 Interestingly, a quick survey of 35 Australian Cellar Door websites undertaken by us on Tuesday March 17th revealed that 80% had not updated their landing page to provide current information in the face of Covid-19.  It would appear that, for these businesses at least, nothing has changed, and (more alarmingly) that no precautions are being taken.
Domestic travel is still considered 'low risk', so if you are planning to stay open as long as possible, here are our top 15 tips – no doubt there are plenty of other great ideas out there as wineries continue to innovate!
Communicate with your customers! Reassure people that as a business you are taking the necessary steps to keep your team safe and your business operating into the future. Show people that you care. Speak with your authentic brand voice by making it personal and avoiding corporate-speak.
Keep apprised of the facts at all times. Updated Australian Government information can be found here:  https://www.health.gov.au
Update your Social Media channels and website to keep visitors and customers informed about your opening hours and experiences. Consider introducing Live Chat on your website and Facebook.
Create a concierge area where guests can be greeted with a warm welcome and an explanation of which experiences are available and your current policy regarding the maintenance of hygiene and social distancing. You may need to reconsider whether tours can be conducted.  Whilst (for privacy reasons) you should not directly ask people for health information, it is entirely reasonable to outline your venue entry requirements and ask visitors to sign in with name and contact details.                                                                                                                                                                  EXAMPLE: "Welcome to XXX, today we are offering (description of tasting options/experiences.) In light of the current crisis, we are very mindful of the health and wellbeing of our staff and visitors and can only offer tastings to those who have not experienced any Covid-19 symptoms, been overseas in the past month and who have had no contact via work or family with a known Covid-19 patient.   If none of those restrictions applies to you, we welcome you to sign in via our guestbook and join us."
Maintain a guest-book. A record of visitors will enable you to provide information to authorities in the extreme case of Covid-19 exposure, and it also offers an opportunity to expand your database (express permission from guests can be included in your written entry terms)
Clean, clean and clean again.  Formulate and promote a cleaning/hygiene policy and ensure that it is enforced.  Don't rely on anti-bacterial wipes or basic detergents. A freshly-made bleach solution is recommended for all exposed surface areas, door handles etc. Download guidelines to disinfect against Covid-19 here:  https://www.health.gov.au/sites/default/files/documents/2020/03/environmental-cleaning-and-disinfection-principles-for-covid-19.pdf
As people choose to social distance and self-isolate, leverage the massive, captive online audience by developing innovative ways to engage, perhaps through virtual tastings via video-conferencing or Facebook Live. Let your staff shine by encouraging them to host tastings of their favourite wines (from your portfolio of course).
If you provide food, think about how you can do it differently in a bid to reduce human contact. An Adelaide car dealership is using a trained barista to make coffee for clients waiting for their cars to be serviced, rather than allowing them to help themselves. Space tables and chairs further apart in accordance with current guidelines for hotels http://health.gov.au
Eliminate cash handling and only accept tap-and-go cards. Disinfect the keypad regularly as per your upgraded cleaning policy.  Do the same with your mobile phone!
Use this opportunity to grow your DTC capability through your online store and club.  Communicate special offers and incentives to attract new business – free freight is a no-brainer. Road test your webstore and club to ensure they are glitch-free and use Social Media to lift brand awareness and trigger sales. Offer Gift Cards (via website/phone/social) and promote them as future Birthday/Anniversary gifts.
Get creative! Develop entertainment pairings to go with your wines: playlists, movies, board games, podcasts – your customers and members will be grateful for the distraction.
Use downtime to brainstorm tourism experience offerings which can be promoted when people re-emerge.
Monitor your social media channels and local Facebook groups. One South Australian winery/restaurant went into damage control following a FB post from a local which claimed the business was closed due to a staff coronavirus contact situation. The post went viral within seven minutes. Well aware that there was no such situation, a quick investigation by the nimble manager revealed that the poster's source was hearsay from a supermarket checkout line. The post was quickly deleted but, left unchecked, had the potential to create serious brand damage.
Upskill your team. Formulate a training plan and conduct in-house and online training for managers and frontline staff.
People still need wine! Be like Howard Vineyard and offer drive-thru service at the cellar door with a discount.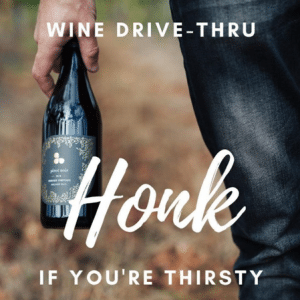 These challenging times offer a unique opportunity to work 'on' your business. Focus on your direct marketing efforts, upgrade your website, experiment with online interaction, create new experiences and invest in staff training so your business is on the front foot and ready to serve new customers and visitors.
As our business coach said this morning, 'It's never been harder to get the first sale from someone, but it's never been easier to get the second.'  Work your database, encourage existing customers to spread the word, turn adversity into opportunity and above all, stay safe and maintain a positive outlook.
Need help structuring a DTC plan, virtual tasting or training your frontline staff?  Get in touch and we'll provide a free 30-minute consultation – online of course!
Robin Shaw & Traci Ayris
Wine Tourism Australia
info@winetourismaustralia.com.au | winetourismaustralia.com
"Helping wineries sell more wine, to more people, more often for more profit."